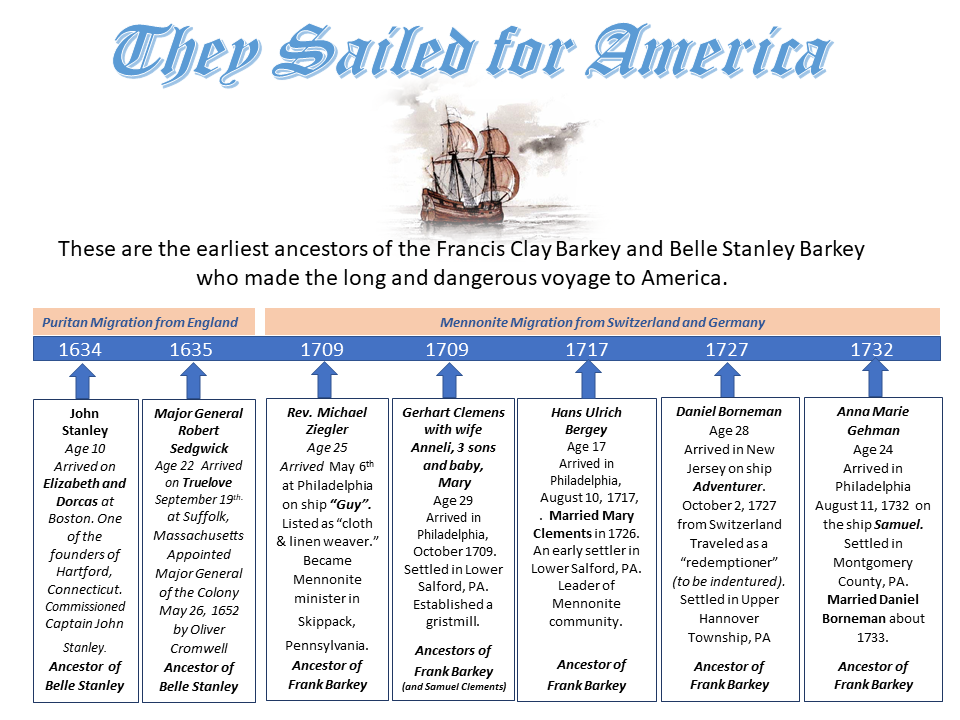 The Great Puritan Migration
Our Stanley ancestors came to New England as part of the Great Puritan Migration. The earliest migration to Massachusetts consisted of a few hundred Puritan Separatist pilgrims who went to Plymouth Colony in the 1620s.
The Puritans left England primarily due to religious persecution and also for economic reasons. England was in religious turmoil in the early 17th century, the religious climate was hostile and threatening, especially towards religious nonconformists like the puritans.
The puritans were a sect of religious dissidents who felt the Church of England was too closely associated with the Catholic religion and needed to be reformed.
Prior to their migration across the Atlantic, in 1607, a sect of puritan separatists from Yorkshire left England and moved to Leiden, Holland in search of religious freedom. Although they found freedom there, they eventually tired of their grueling jobs in Holland's cloth industry.
In 1619, after living in Holland for 12 years, these separatists sought out investors in England who would be willing to finance their journey to the New World.
The group made a deal with the Plymouth Company who promised to finance their trip to North America to establish a colony. In return, the colony would repay the company by harvesting supplies, such as fur, timber and fish, to send back to England.
In September of 1620, the separatists traveled to the New World on a rented cargo ship called the Mayflower and landed off the coast of Massachusetts in November, where they established Plymouth Colony, the first colony in New England. This event marks the beginning of the Great Puritan Migration.
The initial Plymouth Colony puritans were followed by between 13,000 and 21,000 emigrants who went to the Massachusetts Bay Colony between 1630 and 1642.   Our Stanley ancestors came in this migration.  Over this period there were nearly 50 voyages from England to the Massachusetts Bay area.

Our New England Immigrant ancestors:
Arrived in 1634 at age 10
Born: 26 Dec 1624, Ashford, Kent, England
Marriage (1): Sarah Scott on 5 Dec 1645 in Hartford, Connecticut
Marriage (2): Sarah Stoddard Fletcher on 20 Apr 1663
Died: 19 Dec 1706, Farmington, Connecticut at age 81
Immigrated from England to New England in 1634 on board the ship Elizabeth and Dorcas.
John Stanley's father was also on the Elizabeth and Dorcas ship and he died at sea. John was raised by his uncle Thomas. The voyage took more than 100 days due to damage to the ship in the Scilly Islands.
He was one of the founders of Hartford, Connecticut.
John Stanley was a deputy to the General Court almost continually for thirty-seven years, from 1659 to 1696, being, with few exceptions, the longest term of service known in the annals of the state of Connecticut.
In the King Philip's war he was a lieutenant and captain, from which he obtained the rank by which he was most commonly known, of "Capt. John Stanley."
Served as constable in Farmington in 1654; sergeant in 1669; ensign in 1674; captain in 1676; received a grant of one hundred and twenty acres of land from the General Court in 1674, and another in 1687.
Children:
Arrived in 1635 at age 22
Born: 6 May 1613, Woburn, Bedfordshire, England
Marriage: Joanna Blake in 1631 in England
Died: 24 May 1656, Jamaica, West Indies at age 43
Immigration, 1635, Charlestown, Suffolk, Massachusetts on the Truelove September 19th
Appointed Major General of the Massachusetts Colony May 26, 1652 by Oliver Cromwell
He was active in organizing the Ancient and Honorable Artillery Company, of which he became captain in 1640. In 1652 he was appointed commander of all the Massachusetts militia. He ordered the building of Castle William, the first fort at Boston
Under authority from Cromwell, in July 1654 Sedgwick raided Acadia by conquering the French at Fort Pentagouet, Maine; Fort La Tour at the mouth of the St. John River; and Port Royal.
In 1655 he accompanied the expedition which captured Jamaica. Just before his death there Cromwell gave him sole command as the first Governor General of Jamaica.
Children:
Mennonite Migration from Switzerland and Germany
Upon receiving his grant for Pennsylvania in March 1681, from King Charles II, William Penn (1644-1718) immediately set about attracting investors and settlers to the area. To pay expenses and realize a profit from his enterprise, Penn had to sell land. Penn had converted to the Quaker faith and was keenly aware of the persecution and plight of Anabaptists (Mennonites, Amish and Quakers) in Switzerland and Germany. He put forth an offer of 5,000 acres of land in the colony of Pennsylvania and the freedom to practice their religion. The first Mennonites arrived in America aboard the Concord. They were among the first Germans to settle in the American colonies.
The Mennonites, members of a Christian Anabaptist sect founded by Menno Simons in the 16th century, were widely persecuted in Europe. Seeking religious freedom, Mennonite Francis Daniel Pastorious led a group from Krefeld, Germany, to Pennsylvania in 1683 and founded Germantown, the pioneer German settlement in America which is now part of the city of Philadelphia.
Our Barkey ancestors were among the numerous other Swiss and German groups that followed, and by the time of the American Revolutionary War there were 100,000 Germans in the colony.
Our Earliest Pennsylvania Immigrant Ancestors:
Arrived at age 25
Born: 1684, Richen, Baden, Germany Or Switzerland
Marriage: Catherine Schrauger in 1710 in Germantown, Philadelphia, Pennsylvania, USA
Died: 24 Aug 1765, Skippack Township, Pennsylvania at age 81
Buried: 1765, Skippack Township, Pennsylvania
Immigration, 3 May 1709. Came with his brother Melchior. He came on the ship "Guy" with Henry and Arnold Kolb, Marcus Oberholtzer, Gerhardt Clemens and John Bien. He was included in a list of the first 6,000 Germans to arrive in the United States in 1709 from London. He was one of the early settlers of the Mohawk Valley.
Children:
Arrived at in 1709 at age 29 with family
Born: 1680, Niederfloersheim, Pfalz, Germany
Marriage: Anneli (Anna) Reiff in Aug 1702 in Weissenan, Mainz, Palatinate, West Germany
Died: 1745, Hanover Township, Pennsylvania at age 65
Buried: 1745, Lower Salford Mennonite Meetinghouse
Immigration: Sailed to Philadelphia with his wife Anneli (Anna) Reiff, three sons, Jacob, Abraham, Johannes and baby Mary (note: Mary is not listed on immigrant or passenger lists possibly because she was an infant.)
Mary Clemens is our Barkey ancestor
Gerhart was the first generation keeper of the Clemens Account Book, 1709. His records provide a detailed description of life in the Lower Salford – Skippack area of Montgomery County Pennsylvania in the early 18th century.
Children:
(The family name used on his Last Will & Testament is "Barky")
Arrived in 1717 at age 17
Born: 21 Apr 1700, Langnau Im Emmental, Canton Of Berne, Switzerland 78
Marriage: Mary Clemens before 1726 in Pennsylvania
Buried: Salford Mennonite Cemetery, Montgomery County, Pennsylvania
Immigration: Arrived in Pennsylvania with Dillman Kolb on August 10, 1717. Passenger and arrival lists were not required before September 17, 1717, so many immigrants landed at the port of Philadelphia and immediately traveled inland without official registration
Hans became a significant leader of the Mennonite community in Lower Salford Township, PA.
Children:
Arrived 1727 at age 28
Born: 1699, Switzerland
Marriage: Anna Marie Gehman about 1733 in Pennsylvania
Died: 1766, Near Greenlane Resevoir, Pennsburg, Pennsylvania at age 67
Buried: Pennsburg, Pennsylvania
Immigration: Sailed on the ship Adventurer, arriving on October 2, 1727.
The captain of the Adventurer intended to land in Virginia and sell travelers like Daniel who were indentured as slaves. After passengers threatened mutiny the ship was finally abandoned and burned just off the New Jersey shore of the Delaware River.
After being assisted by New Jersey colonists, Daniel and other immigrants went to Philadelphia and then to Montgomery County.
Children:
Arrived in 1732 at age 24
Born: 13 May 1708, Grosshöchstetten, Switzerland
Marriage: Daniel Borneman about 1733 in Pennsylvania
Died: 12 Nov 1756, Pennsburg, Pennsylvania at age 48
Immigration: Arrived in Philadelphia, Pennsylvania. 11 Aug 1732, Immigrated with brothers Christian and Benedict on the ship Samuel.
Children: (See above)

Anna and Daniel Borneman's granddaughter, Catherine Borneman married Abraham Barkey May 7, 1808.