Cline and Ruth were married in Indianapolis, September 3, 1937, and moved to South Gate California soon after, where Cline served as pastor of a small church and worked at a meat processing plant as a butcher. During that time they owned a 1927 Pontiac like this: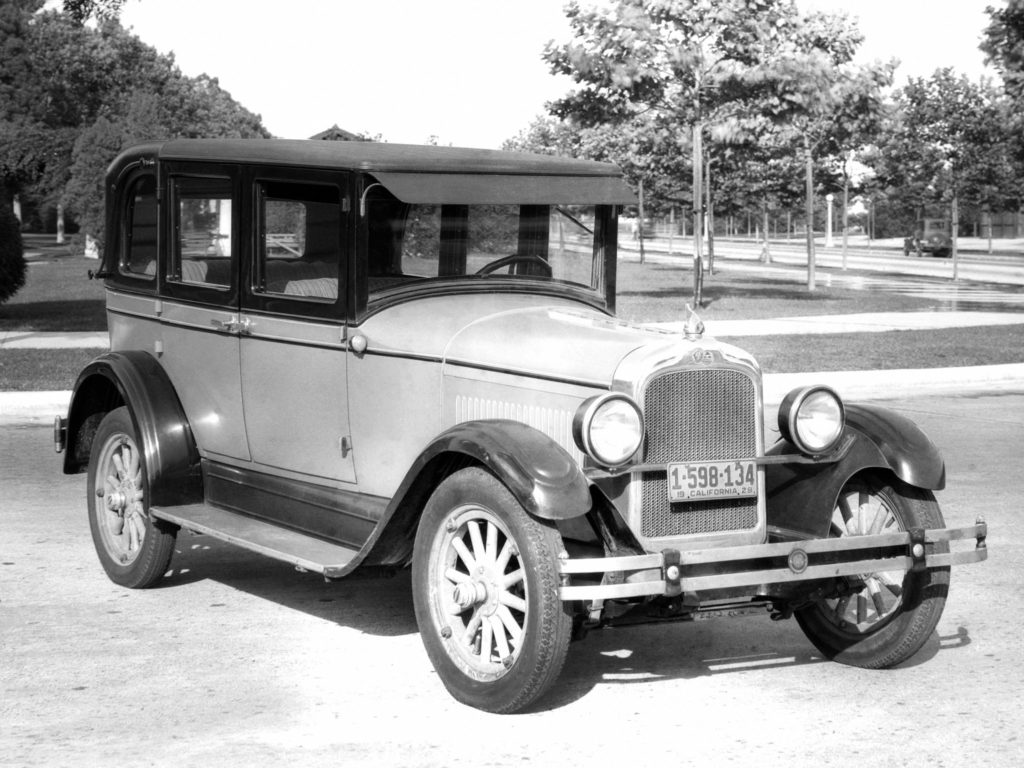 David was born in 1939 and Richard (Dick) was born in 1940 so we probably had our first ride in a car like this.
Cline and Ruth along with David and Richard moved to Indianapolis for a short time and then around 1942 moved to the village of Loami Illinois, near Springfield. Stan was born in Springfield, Illinois, in 1943 when the family lived in Loami. Around 1944 the family moved to Cottage Hills, Illinois near Alton. In each of these small villages Cline served as pastor of Baptist churches. Paul was born in Alton.
The first car that Dick remembers our family having in Cottage Hills was like this 1939 Chevrolet four-door sedan: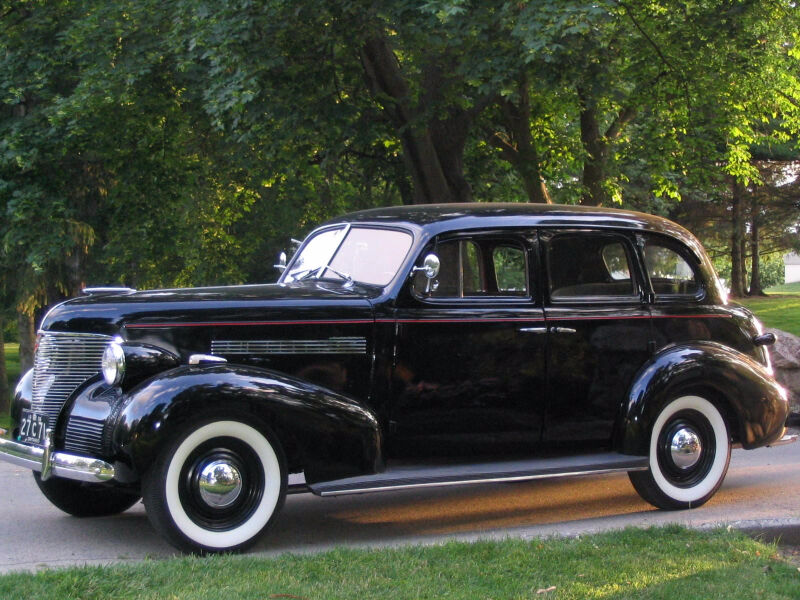 Money was very tight during the war time and apparently it was a struggle to make payments on this car. Also, U.S. auto production was stopped in 1942 and no new cars were built until 1946, raising the demand and prices for late model used cars. It was not uncommon for the church to fail to pay the pastors salary so soon after the family moved to Cottage Hills they traded back to a 1936 Chevrolet 2 door sedan like this: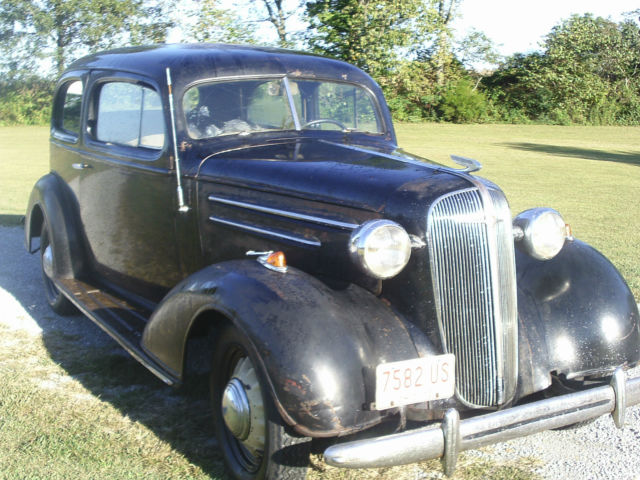 David and Richard will remember how this car rattled and shimmied when it got to a speed of over 45 miles per hour.   It would also occasionally pop out of gear.   We made a trip to Haxtun, Colorado in the summer of 1944 and as we crossed Kansas it seemed like we had a flat tire every 10 miles.  In those days you fixed a flat by jacking up the car, removing the wheel with the flat tire, removing the tire from the rim, patching the tube, remounting the tire, pumping it up manually and hoping it would stay inflated.   Near Salina Kansas there was no tire left.   Tires were rationed during the war so we had to stay there for several days while we waited to get a new tire.
When we finally arrived at the Barkey farm near Haxtun in 1944 this is a car like the one Frank and Belle Barkey owned: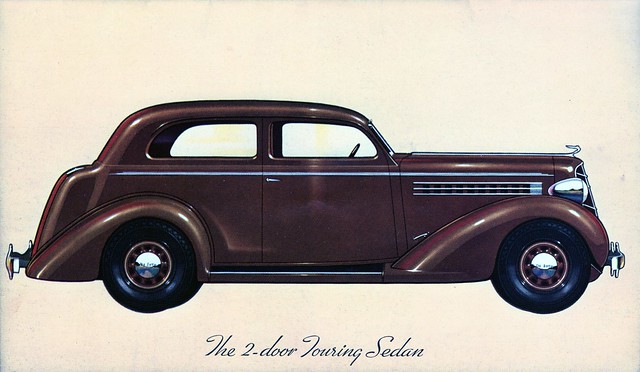 1935 DeSoto
Frank took David and Richard into Haxtun to the locker plant in this car one day and got in big trouble with Belle when he got back to the farm. Frank had taken the boys into the freezer room of the locker plant barefooted.
In December, 1946, tragedy struck our family when Frank was killed by a neighbors bull just a few days after Cline had made a trip to Colorado from Illinois to officiate the wedding of his sister Orpha to Ralph Peterson. While Cline was in Colorado, Belle insisted on everyone gathering for family photographs in Sterling. Thanks to her persistence we have this great family photo.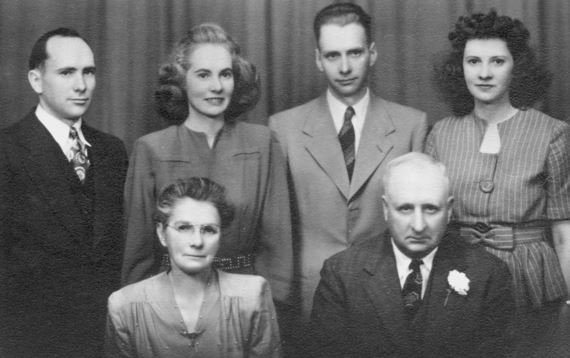 Back: Cline, Orpha, Daniel, Marian Front: Belle, Frank
We got word that Frank had been killed just as Cline arrived back in St. Louis on the train. In those days the messages usually came by telegram. We all immediately came back to Colorado for Franks funeral just before Christmas, 1946. During our week in Colorado, Cline's Aunt Ruby kept Dave and Richard for a short time. She had a particularly fancy car like the 1936 Chrysler shown here. It had a beautiful two-tone paint like this one.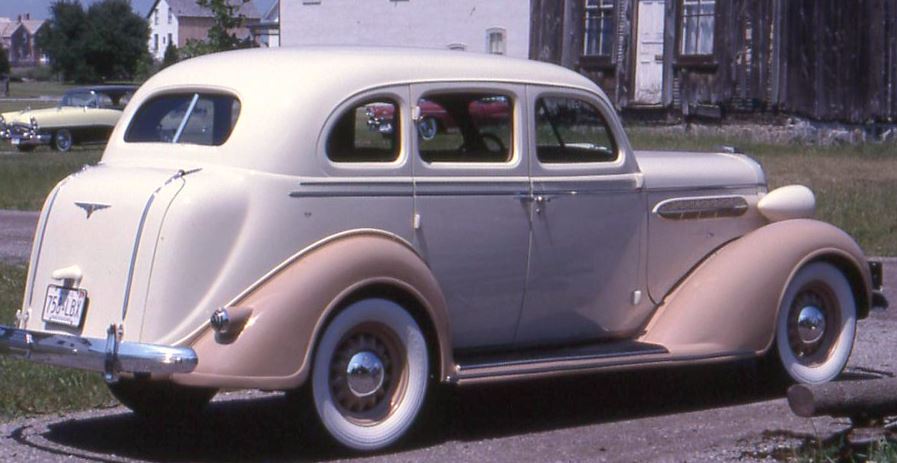 Ruby and Clithro, Frank's Brother lived on a farm next to Frank and Belle at Highland Center.
The next family car for the Cline and Ruth Barkey family was a black 1941 Pontiac similar to the one pictured here. It was a great upgrade from the shimmying '36 Chevy… it could curse easily at over 50 miles per hour (the highway speed limit then) and it had a radio. The family had this car when we moved to La Junta, Colorado in March of 1949.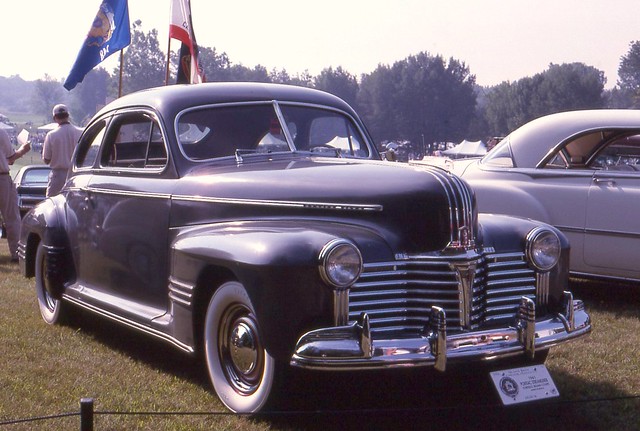 The Pontiac had a cool looking dash board and nice interior that looked like this:
While the family lived in La Junta, we often drove across the plains of eastern Colorado to Haxtun for family holiday gatherings. A favorite memory is driving through Punkin Center, Colorado, past open ranch land while listening to "Tumbling Tumbleweeds" by the Sons of the Pioneers. (Margie had lived on one of these giant ranches, The Brett Gray Sheep Company, from 1941 to 1946.)
More about Barkey Family Cars: