Our Family Name – From Bürgi to Barkey
Five hundred years ago our earliest known ancestors in the Palatinate area of Germany had the family name Bürgi or Bürgy.
It is interesting to track the evolution of our family name to Barkey over the span of about 300 years.
The changes to our family name seem to have occurred around the times when our ancestors migrated to southeast Pennsylvania from the Palatinate region of Germany in 1717, with final name changes corresponding to movements to northwest Pennsylvania about 100 years later.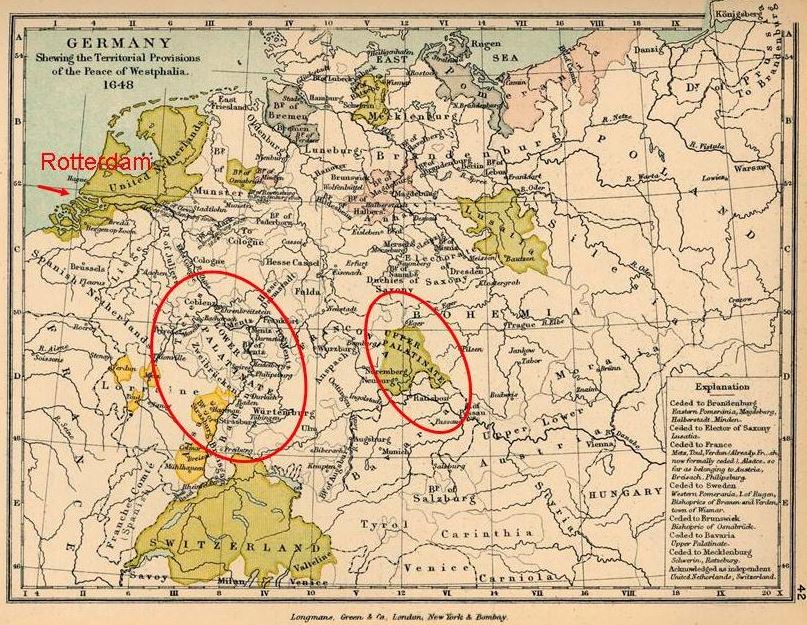 Our earliest Bürgi ancestor who is recorded on Ancestry.com is Johannes Adam Burgi who was born about 1535 in Switzerland (Gnotek Family Tree – Ancestry.com). Family records from earlier times are difficult to track. Our Swiss and German ancestors became a part of the Anabaptist movement specifically Mennonites. While being persecuted, even hunted down and killed for their religious beliefs and practices in western Europe, Mennonites maintained an appreciation for good basic education and they maintained family records.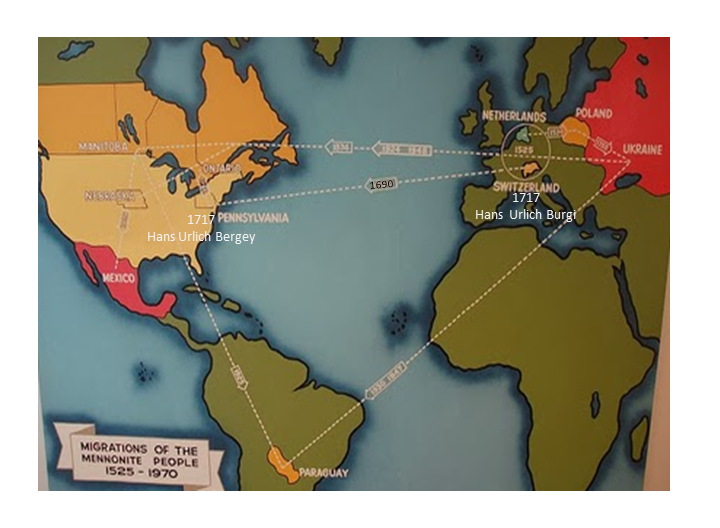 From Burgi to Bergey
Five generations after Johannes Adam Burgi  our earliest known Barkey ancestor migrated to America. He arrived in Philadelphia, Pennsylvania, in 1717, using the name Hans Ulrich Bergey, sometimes also spelled Berge (see grave marker bellow), Bergy or Bürgi.  Hans Ulrich Bergey was born on April 21, 1700, in Bern, Switzerland.  When he was born his father, Hanß Heinrich Burgi, was 31 years old in 1717 and his mother, Maria Burki, was 19.  After arriving in Philadelphia, Hans Ulrich Bergey made his way a short distance north to Germantown and subsequently about 40 miles further to the north to Salford Pennsylvania.  Hans Ulrich Bergey married Anne Mary Reiff Clemens in 1726 in Lower Salford, Pennsylvania. They had 14 children over a period of 25 years.  He died on December 11, 1762, in Montgomery County Pennsylvania, at the age of 62, and was buried in Harleysville, Pennsylvania (Gnotek Family Tree – Ancestry.com).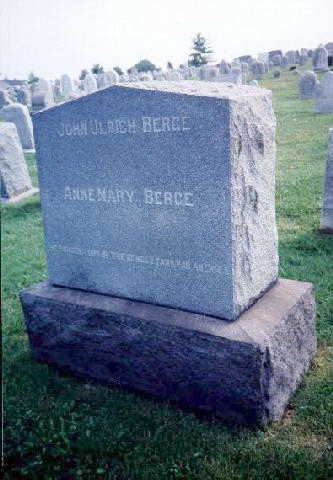 Hans Ulrich Bergey appears in over 2,100 family trees in Ancestry.com, so even though our Barkey family name is not common, we have cousins everywhere. His father, Hanß Heinrich Burgi and mother Maria also immigrated to America in the early 1700's and they established the Mennonite community of Lower Salford Pennsylvania just north of Philadelphia.
The Hans Ulrich Bergey family was prominent in the Lower Salford community and there are structures that remain 300 years later that are proof of the Bergey's significance.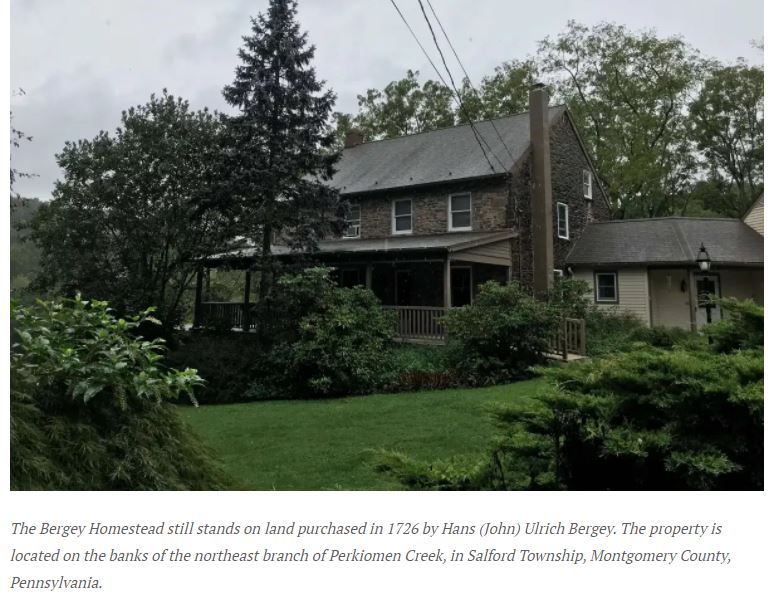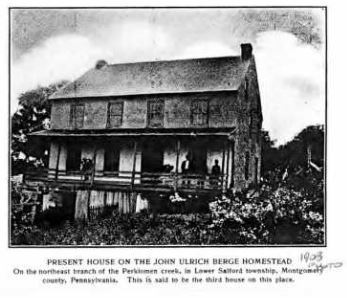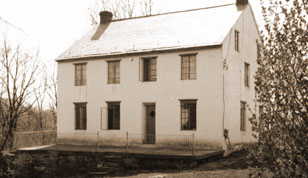 Hans Ulrich Bergey also built a grist mill along a creek that still stands. Here is an earlier photo of the mill: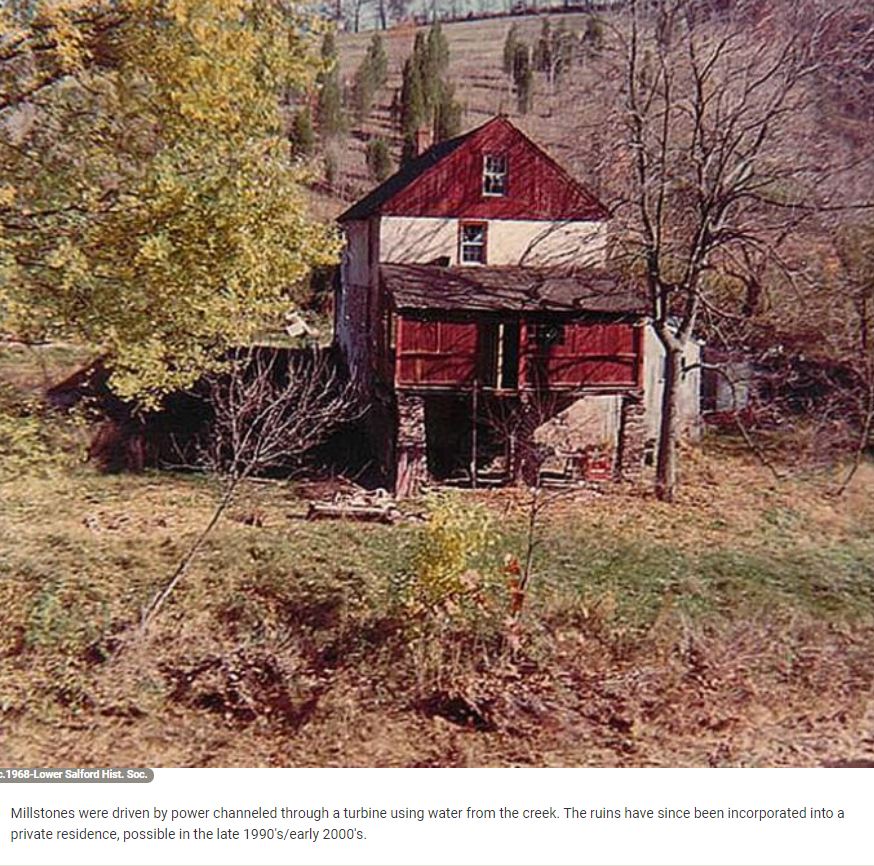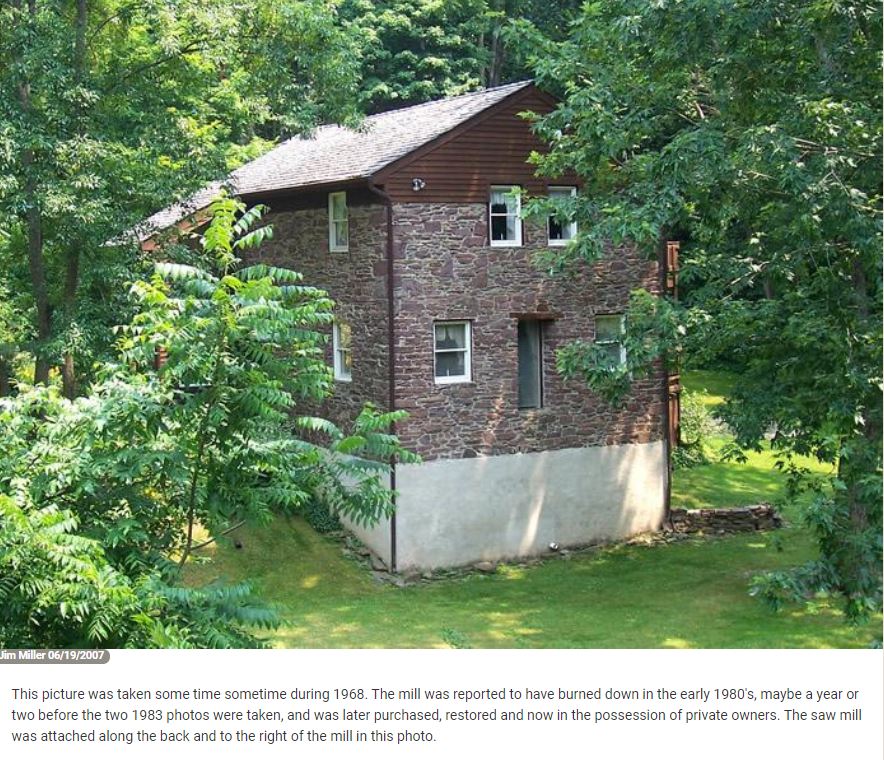 Hans Bergey's oldest son was John (Hans) Bergey also was a leader in the Lower Salford community. He was born in 1728 and died in 1804. He received a good education by attending school at the Mennonite Meeting House several days a week. He married Anna Clymer (Clemmer) and they had 7 children. Note that his life spans the American Revolutionary War and the establishment of the United States Constitution. As a staunch Mennonite he would not have been a fighter in the war. He is buried at the Salford Mennonite Cemetery in Montgomery County Pennsylvania.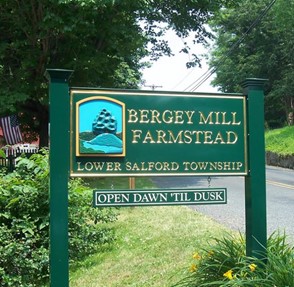 From Bergey to Barkey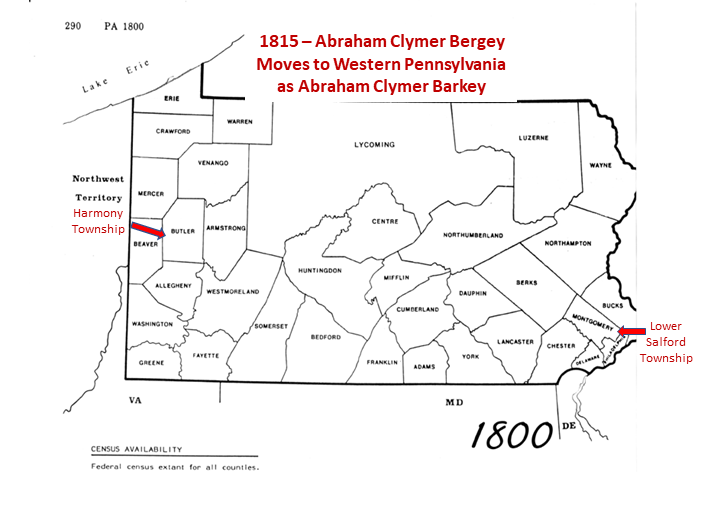 Abraham Clymer Bergey (Barkey) was the youngest son of Hans Bergey.   He was born in Upper Salford Township in 1783 and some after 1810 moved to Butler County in western Pennsylvania.   He married Catherine Borneman on 7 May 1808 and they had 10 children including our ancestor Enos (Enoch) Barkey.  
Abraham died September 10, 1833 and is buried in Harmony, Butler County Pennsylvania.
The Barkeys Move West
Abraham Clymer Barkey was the father of Enos (Enoch) Barkey and grandfather of Ziegler Barkey.
Enos moved with his family from Pennsylvania to Illinois and then to Gage County Nebraska. He established himself as a successful farmer and cattle producer.
Ziegler Barkey was the father of Frank Barkey, pictured with his brothers here. (Frank is at the far left.)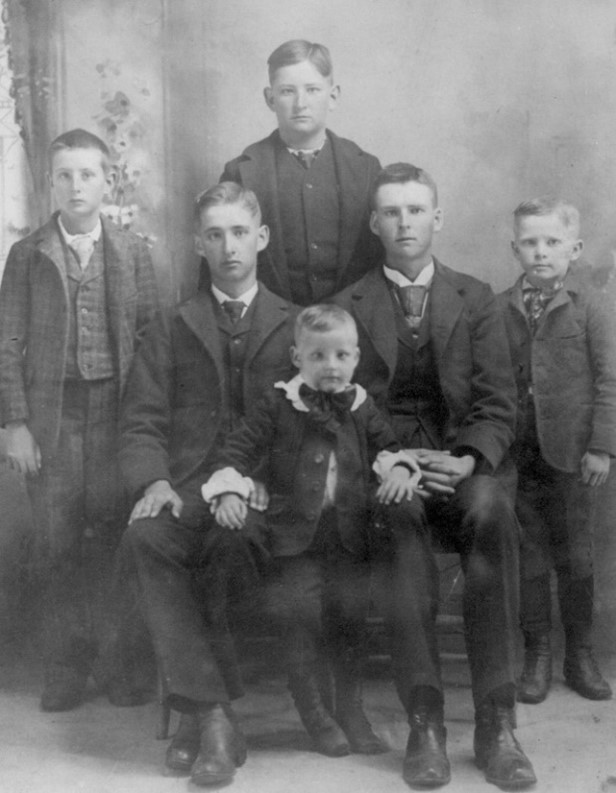 Francis Clay (Frank) Barkey married Belle Stanley on May 4, 1910 in Cortland, Nebraska.   They are pictured in the front center here with Frank's father, Zieglar Barkey and mother, Hattie Fox Barkey on the left and Belle's parents Monroe Morris Stanley and Laura Roberts Stanley on the right.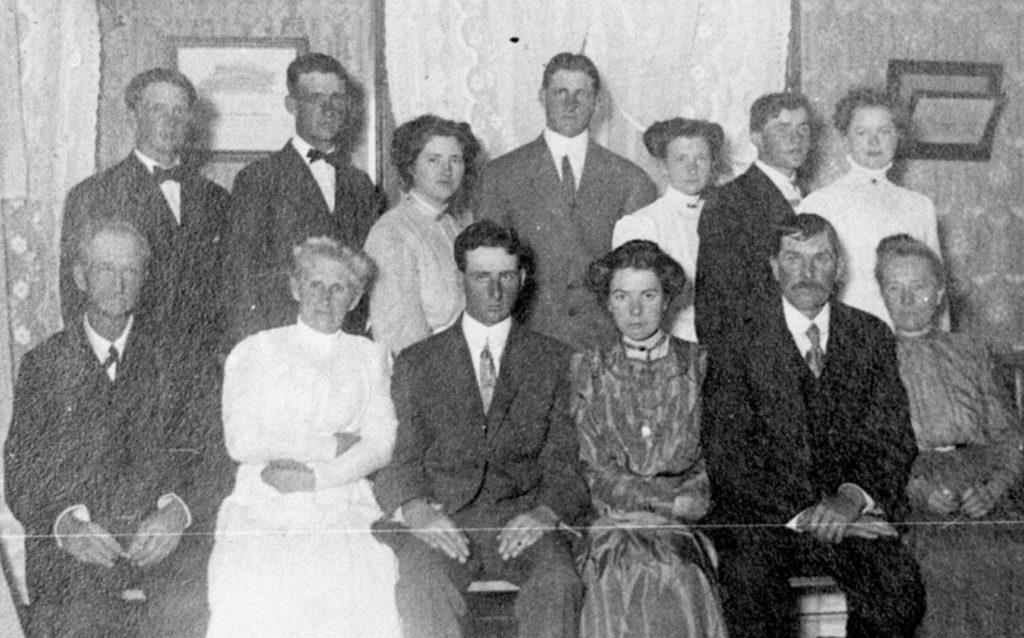 The Barkeys Move to Colorado
Francis Clay (Frank) Barkey with his wife Belle Stanley Barkey and their two children Cline and Orpha moved from Gage County Nebraska to Haxtun Colorado in 1917. The Frank and Belle Barkey family is pictured here. This photo was taken in December 1946, just a few days before Frank was killed by a neighbor's bull. Cline had traveled from Cottage Hills, Illinois, to perform the marriage of Orpha to Ralph Peterson. At Belle's instance they all went to a photo studio in Sterling for this special photo. Upon return to Illinois a few days later Cline learned of is father's tragic death.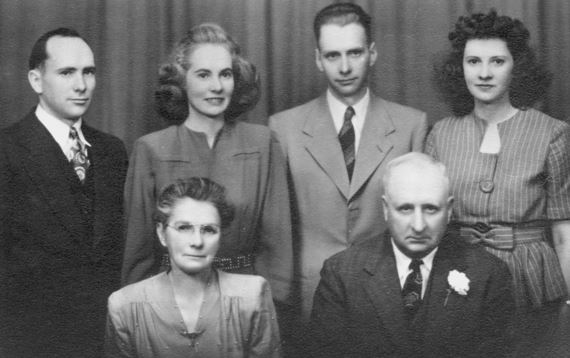 Note of Thanks
The Barkey family tree and family history data represented in the linked database is the product of intensive research and careful organization done by Debbie Barkey Fraaken.
See the Barkey Family Tree at: www.barkey-us.org