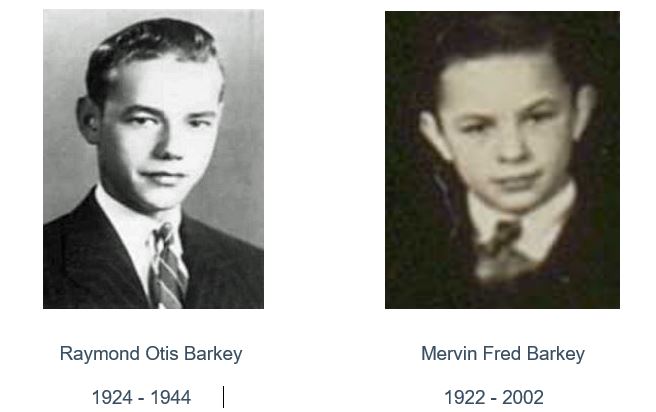 Two Barkey brothers from rural northwest Indiana and their family paid a great price for the freedom we enjoy in America. The brothers both attended Lowell High School near Roselawn, Indiana where they were active in sports and music. Mervin enlisted in the Army Air Corps where he served as a top gunner on a B-24 Liberator. His younger brother Ray enlisted on March 31, 1943 and became part of the 101st Airborne Division, 506th Parachute Infantry Regiment.
As the allied forces pushed across western Europe in 1944, both brothers were in grave danger. Ray was injured on June 6th but went back into action on June 18th. On October 6th in a drop over western Europe he was critically wounded and died in an army hospital in Holland the next day. On February 24, 1944 his older brother Mervin had been shot on a bombing mission over Germany. After parachuting safely he was taken prisoner by German forces. Mervin was a veteran of 16 previous missions over enemy territory and had been in England since October, 1943. He was a German prisoner of war until his prison was liberated in July 1945.
Ray was laid to rest in the Netherlands American Cemetery at Margraten, Netherlands. Both Ray and Mervin were recipients of the Purple Heart and many other service awards. Ray's grave has been adopted for care and honor by Ricardo Barkey of the Netherlands.
A special thanks is due to Ricardo Barkey for his kindness in caring for Ray's grave and for Ricardo making an inquiry to Dick Barkey of Colorado about a possible relation to Ray. It appears the only connection is that we share the same family name. Ray's grandfather immigrated to America from Prussia in northeast Germany in 1870, whereas Dick Barkey's ancestors came to Pennsylvania from Switzerland in 1717. Though not related, we are nonetheless grateful for the gifts these Barkey brothers made to the freedom we treasure.